As the heart of the home, the kitchen is an important space that reflects our personal style and enhances our daily lives. With every passing year, new design trends emerge, transforming the way we approach kitchen design and inspiring us to create beautiful and functional spaces.
As we move into 2023, there are several exciting kitchen design trends that are expected to take centre stage. From incorporating natural light and biophilic design to embracing bold colors and innovative storage solutions, the kitchen is poised to become an even more dynamic and inviting space in the coming year.
In this article, we will explore some of the top kitchen design trends that are expected to dominate in 2023, providing inspiration and ideas for anyone looking to update their kitchen or embark on a full-scale remodel.
Expanding the kitchen space
Open-concept kitchens have been a common trend in recent years, but what we have seen taking place slowly is extending the kitchen reach even further and incorporating pantry and dining rooms. This way there isn't much distinction between the kitchen and other areas, connecting all the spaces around the kitchen together as one. 
The upside of planning the design this way is that the area flows much better and there is better connectivity between them, so it's easier to get around. 
Visually, as well, it will look a lot nicer and more pleasing to the eye to have the kitchen expanded instead of limited to a small boxed-in area. Having an extended kitchen space is a more modern approach to design. 
Large windows
In 2023, we could see a lot more happening with windows. Expansive windows can totally transform a living space by allowing in all the natural light. 
It's not just the lights they let inside, but the windows themselves add a new dimension to the design of the place. Windows can have texture, colour and bridge indoor and outdoor spaces together. 
Using windows to bring the outdoor in and add a natural feel and touch to kitchen designs is one of the many trends associated with using windows this year. 
Simple and clean looking countertops 
Kitchen benches are a key element to a kitchen design. Having bold dramatic kitchen countertops with dark and ecstatic patterns is a trend that is fading away now. Instead, it is being replaced with simple and neat countertops with lighter colours. 
The use of natural wood colours and earthly rich tones is also common for kitchen benches with this trend. To accompany these wooden tones lighters shades are added to the palette to create a balanced look to the kitchen. The result is a more soothing and cozy kitchen space. 
Touch of traditional style 
If you admire the vintage stuff, you'd be happy to know that the traditional designs are back! 
By traditional we mean moving away from sleek and clean lines and embracing warm, natural materials such as wood, stone, and brick, as well as classic design elements like ornate cabinetry, crown molding, and intricate tile patterns. This style creates a cozy and inviting atmosphere that is perfect for cooking and entertaining.
One reason for the return of traditional kitchen design is the desire for a timeless aesthetic that won't go out of style. Many homeowners are turning away from trendy, modern designs in favor of something more classic and enduring. Traditional kitchens are also known for their durability and high-quality materials, which can withstand the wear and tear of daily use and last for decades.
Light palettes for kitchens 
Another trend that has become popular is incorporating light with the colour palette of your kitchen. Sunlight changes the mood and atmosphere of the kitchen, but if you are using matte materials, it goes beyond that and really changes the glow and colour of your tiles. 
Using bigger windows and welcoming more light to play a part in your colour palette can be a game changer. There are so many benefits of using more natural light including boosting your mood and most importantly a more eco-friendly environment.
Space-saving cupboard design
As people continue to downsize their homes and seek out more efficient living spaces, space-saving cupboard design trends in kitchens are becoming increasingly popular. These designs allow homeowners to maximize their storage space while maintaining a sleek and modern look in the kitchen.
One of the most popular space-saving cupboard design trends is the use of pull-out cabinets and drawers. These cabinets and drawers can be easily accessed and provide a high degree of flexibility in terms of storage options. For example, pull-out cabinets can be designed to fit specific kitchen appliances, such as a stand mixer or a food processor, allowing them to be easily stored away when not in use.
Another space-saving trend is the use of corner cabinets, which often go unused in traditional kitchen designs. With clever design solutions like lazy susans, pull-out drawers or swing-out shelves, corner cabinets can become efficient storage spaces. Similarly, vertical storage solutions like pull-out pantry cabinets or tall cupboards with adjustable shelves offer efficient use of vertical space.
Terrazzo detailing 
Terrazzo is a material that never goes out of style. It is a timeless choice and it has become ever more popular in recent years (for good reason). 
Terrazzo tiles are eco-friendly, super easy to maintain and clean and simply look gorgeous. Plus they come in countless colours and designs. There are many benefits in using terrazzo tiles in your kitchen, and they can take the kitchen up a notch.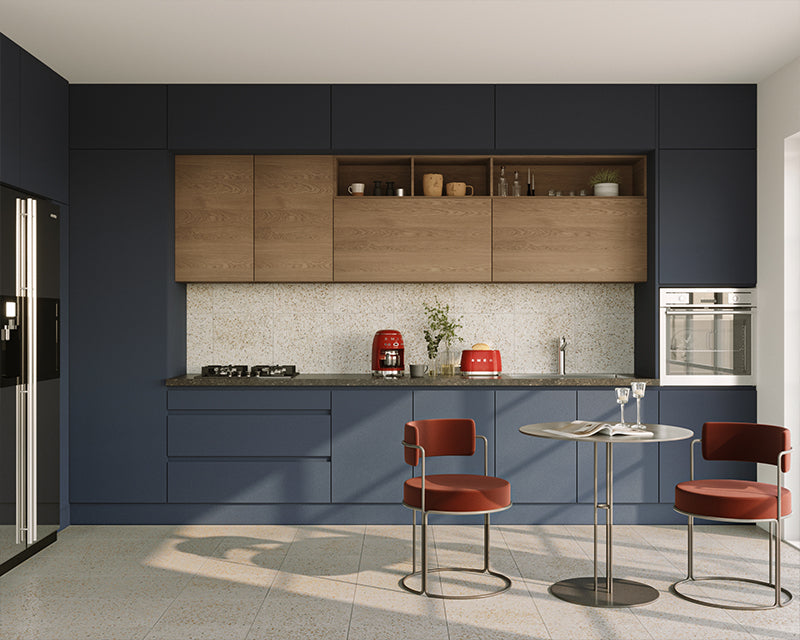 While the use of terrazzo in flooring and walls is common, what's become more popular in 2023 is using terrazzo for detailing and adding texture to your kitchen design.