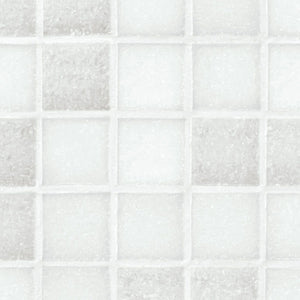 Product image 1

Product image 2
Beautiful Bisazza mosaic colours, patterns and blends can transform a swimming pool into a beautifully indulgent space; we hope you find your pool inspiration here. Almost any Bisazza colours or blends can be used as swimming pool mosaics as well as feature walls. 
Made in Italy
Sheet Size: 322x322 mm 
Chip Size: 20x20 mm
Thickness: 4 mm 
Material: Glass 
Finish: Satin 
Number of square chips per sheet : 225 Pieces 
Joint Thickness: ~1,57mm
Weight: 7 kg/sqm
Net System : Hot Melt System

Application 
 Indoor floor light traffic

 Indoor wall

 Outdoor floor

 Outdoor wall

 Swimming pool and spa

 Shower
Please give us a call for checking stock and availability. 
Recommendation

Adhesive [ Glue ]: 
Best to use White glue [ not off-white or grey ], majority of Bisazza Colours are not solid colours and Translucent. Using Off-white glue or Grey can slightly enhance the colour of your pool mosaic. 
For best results, the foundation must have a perfectly smooth, even and white surface, and must be mature, sound and stable.
MAINTENANCE AND CLEANING OF GLASS MOSAIC SURFACES
Use ordinary cleaning products for maintenance and cleaning of glass mosaic surfaces (except those containing hydrofluoric acid or phosphoric acid), being careful to rinse thoroughly with water. Do not use alkaline cleaning products.
Delivery
We work with the best delivery services available to ensure your products are safe and arrive at destination in the best condition.  
You can choose your delivery options at checkout. The cost will depend on your location and weight of the package. 
Your orders will arrive approximately 1 to 2 weeks from placing your order. This time frame could be altered based on your location and weight of your package.
If you have any questions about delivery please contact us.