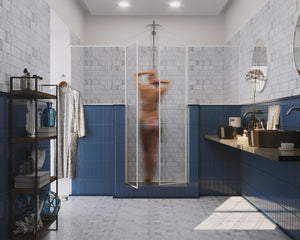 Product image 1
Product image 2
Product image 3

Product image 4
Product image 5
Product image 6
Carrara Bianco Scarpa Plus marble mosaic has been crafted and inspired from Italian Architect, Carlo Scarpa. This Modular marble is formed from irregular rectangular pieces. This mosaic is suitable for both floor and wall applications. Carrara Bianco Scarpa Plus will bring a touch of industrial lure to your space with the raw delicacy of irregular marble pieces. This mosaic flaunts every unique detail recreating what was once considered flaws, to be a gorgeous statement.
Made in Italy. 
Website prices are per sheet.
Finish: Honed
Slip Rating: P2
Chip Size: Modular
Sheet Size: 320x320 mm
Thickness: 10 mm
Number of sheets per m2: 9.76
This Product has been designed by Stone and Tile Project and after a year of consulting with many known Australian Architects and Interior Designers, we have just ordered and passed it to our production team. This item will be available on the first week of September 2021. 
Please call us or visit our showroom to check stock availability
Delivery
We work with the best delivery services available to ensure your products are safe and arrive at destination in the best condition.  
You can choose your delivery options at checkout. The cost will depend on your location and weight of the package. 
Your orders will arrive approximately 1 to 2 weeks from placing your order. This time frame could be altered based on your location and weight of your package.
If you have any questions about delivery please contact us.