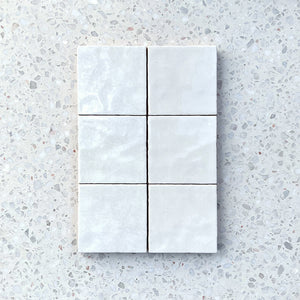 Product image 1
Product image 2
Cass Blush Matt White Handmade Ceramic 120x120 will transform any space with these beautiful, handmade look subway tiles. The authentic, natural texture of the uneven surface plays with lighting and reflections making an ever changing design.
Sell per square metre and on nearest box number.
1 Box: 1.152 M2 : 80 Pieces
Finish: Gloss and Matt

Size: 120x120 MM
Thickness: 9 MM
Variation: V3-V4
Please visit our showroom or call us to check stock availability
Delivery
We work with the best delivery services available to ensure your products are safe and arrive at destination in the best condition.  
You can choose your delivery options at checkout. The cost will depend on your location and weight of the package. 
Your orders will arrive approximately 1 to 2 weeks from placing your order. This time frame could be altered based on your location and weight of your package.
If you have any questions about delivery please contact us.