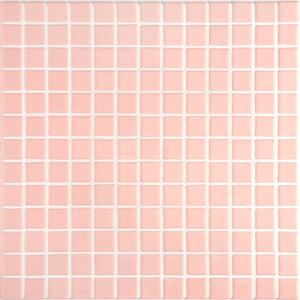 Lisa 2552-A Pink Glass Mosaic Pool Tile can be an ideal choice for your pool. Ezzari pool tiles are renowned for their high quality since 1979. The Dot-Mounted or Joint-point Paneling system was introduced by Ezarri in 1992 and it has been approved by many installers around the world. This is a technologically advanced system that has been designed solely by Ezarri and guarantees perfect and uniform mosaic installation. 

Please give us a call or simply send us an email so we can check stock availability and provide you with a competitive price for your quantities.  
Available sizes: 
Chip Size: 25x25 MM   |   Sheet Size: 495 x 312mm

Chip Size: 36x36 MM   |   Sheet Size: 334 x 334mm
Delivery
We work with the best delivery services available to ensure your products are safe and arrive at destination in the best condition.  
You can choose your delivery options at checkout. The cost will depend on your location and weight of the package. 
Your orders will arrive approximately 1 to 2 weeks from placing your order. This time frame could be altered based on your location and weight of your package.
If you have any questions about delivery please contact us.