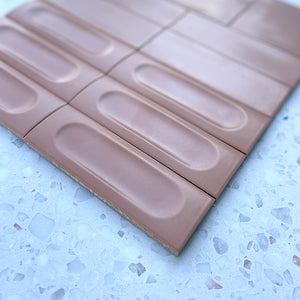 Product image 1

Product image 2
Product image 3
Product image 4
Product image 5
Portofino  is the new small-size porcelain stoneware proposal that becomes part of the Stone and Tile Project Feature collection. This new Italian collection rediscovers the charm of authentic ceramics with a hand-made touch that is the result of a new hi-tech industrial craftsmanship. The surface is 'sugared', soft to the touch and is produced in a wide colour palette of 12 warm and cool shades in the two modular 5x15 and 10x10 sizes, However,  the 3D Savoiardo 5x15 texture is instead made in 5 colours.
Made in Italy
Available Finishes:
Soft Matt

Slip Rating: P2 [ Indicative ]
Available Sizes:
100x100 mm 
150x50 mm
150x50 mm - 3D Décor

Thickness: 10 mm
Sold Per M2 

Packaging Format 
100x100 mm, 1 Box : 0.68 M2 : 68 Pieces
150x50 mm  , 1 Box : 0.81 M2 : 108 Pieces
150x50 mm - 3D Décor,  1 Box : 0.68 M2 : 90 Pieces

Profile [Edge ]: Non-rectified
Surface Profile : Fine undulated
Application: Floor and Walls
Water Submersible 
Variation: V1


Please call us or visit our showroom to check stock availability
Delivery
We work with the best delivery services available to ensure your products are safe and arrive at destination in the best condition.  
You can choose your delivery options at checkout. The cost will depend on your location and weight of the package. 
Your orders will arrive approximately 1 to 2 weeks from placing your order. This time frame could be altered based on your location and weight of your package.
If you have any questions about delivery please contact us.