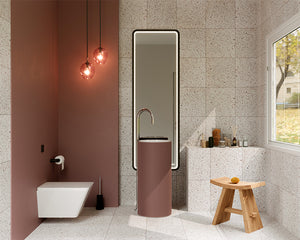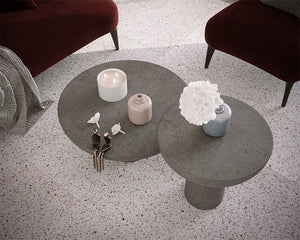 Product image 1
Product image 2
Product image 3
Product image 4

Product image 5
Rose Pink Terrazzo STP-23 has been designed by a young Australian Designer, exclusive for Stone and Tile Projects. We have spent a couple of years collaborating with many Australian Architects and Interior Designers to find the right background colour and types of chips which can craft a grand space, exclusive for your residential and commercial projects.
It has been purposefully decided to not stock these items in order to prevent their overselling which could gradually destroy the exclusivity and uniqueness of this terrazzo collection. This collection is only preserved for those who have been crafting their space thoroughly and specified a time-frame for every finish of their renovation.  
Most remarkably, as awareness increases about sustainable practices in design, more clients are ensuring their visions for interior design are executed in the most environmentally-friendly approach, as much as possible. This Terrazzo has extremely low water absorption and does not contain any toxic materials.
This product has been sealed once in our overseas factory but we highly recommend to seal it once more to ease the cleaning and maintenance factors.
Available Finishes:
Only Honed
Slip Rating: R10
This Terrazzo can be processed in following sizes;
1200x600x20 MM
600x600x20 MM
400x400x20 MM
Thickness: 20 MM
Don't hesitate to contact us if you have any further question about this collection. 
Delivery
We work with the best delivery services available to ensure your products are safe and arrive at destination in the best condition.  
You can choose your delivery options at checkout. The cost will depend on your location and weight of the package. 
Your orders will arrive approximately 1 to 2 weeks from placing your order. This time frame could be altered based on your location and weight of your package.
If you have any questions about delivery please contact us.