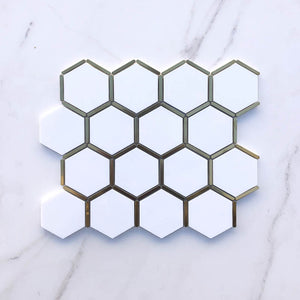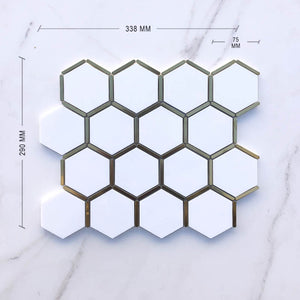 Product image 1

Product image 2
We've seen gold accents gleaming on the catwalks and now we're dressing your homes to impress with this rich lustre. Just as we can adorn any type of outfit with rich trims, gold has become a go to accent for each and every room of the home, from living rooms to kitchens, bedrooms to bathrooms. This mosaic has been crafted by Thassos Marble from Greece and touch of gold powder coated stainless steel to to neutrally decorate your space.
Website prices are per sheet.
Finish: Polished
Slip Rating: P2
Chip Size: 75 mm [Diametre]
Sheet Size: 338x290 mm
Thickness: 10 mm
Number of sheets per m2: 10.20
Please call us or visit our showroom to check stock availability.
Delivery
We work with the best delivery services available to ensure your products are safe and arrive at destination in the best condition.  
You can choose your delivery options at checkout. The cost will depend on your location and weight of the package. 
Your orders will arrive approximately 1 to 2 weeks from placing your order. This time frame could be altered based on your location and weight of your package.
If you have any questions about delivery please contact us.