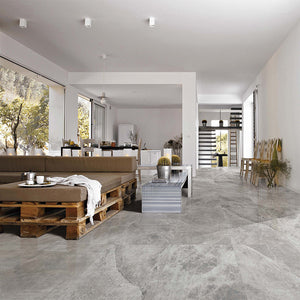 Product image 1
Product image 2
Product image 3
Product image 4
Tundra Blue Rectified Porcelain suggests contrast, contemporary and versatile look. This range of marble look porcelain reflects natural look of stone with more affordable price.


Sell Per M2 and Nearest Box Number 


Available Sizes and Finishes: 
600x600x10 MM, 4 Pieces/ Box, 1.44 SQM
600x300x10 MM , 8 Pieces/ Box, 1.44 SQM

Number of faces: 12+
Code: TB18
Please give us a call or visit our showroom to check stock availability.
Delivery
We work with the best delivery services available to ensure your products are safe and arrive at destination in the best condition.  
You can choose your delivery options at checkout. The cost will depend on your location and weight of the package. 
Your orders will arrive approximately 1 to 2 weeks from placing your order. This time frame could be altered based on your location and weight of your package.
If you have any questions about delivery please contact us.